Indian Grocery – A $1 Tn Market (2025) Undergoing Digital Disruption
Executive Summary
With the onset of Covid-19, there is an increasing need for focused and essential play in the eGrocery Space.
The digital grocery platforms (eGrocery) have been disrupting the enormous grocery opportunity in India over the past 5-6 years. However, the eGrocery space is experiencing an interesting turn of events that is providing a boost to the overall sector. With the COVID lockdown, online at-home access to groceries has become the preferred mode. Moreover, the recent entry of JioMart (that has a ready untapped base of internet users) has made the eGrocery space more exciting than ever before.
The overall grocery spend in India is sized at $600 Bn+, as per 2019 estimates. eGrocery is disrupting this market with the entry of multiple business models. The eGrocery market GMV stood at a mere $0.05 Bn in 2013, but has grown 30x in the last 6 years to reach $1.5 Bn GMV in 2019. Despite the humongous growth, eGrocery only accounts for 0.3% of the overall grocery spend in India i.e. significantly less compared to developed countries like China, UK and US.
Figure 1: Despite 30x growth, eGrocery models have been able to tap only 0.3% of the total grocery market.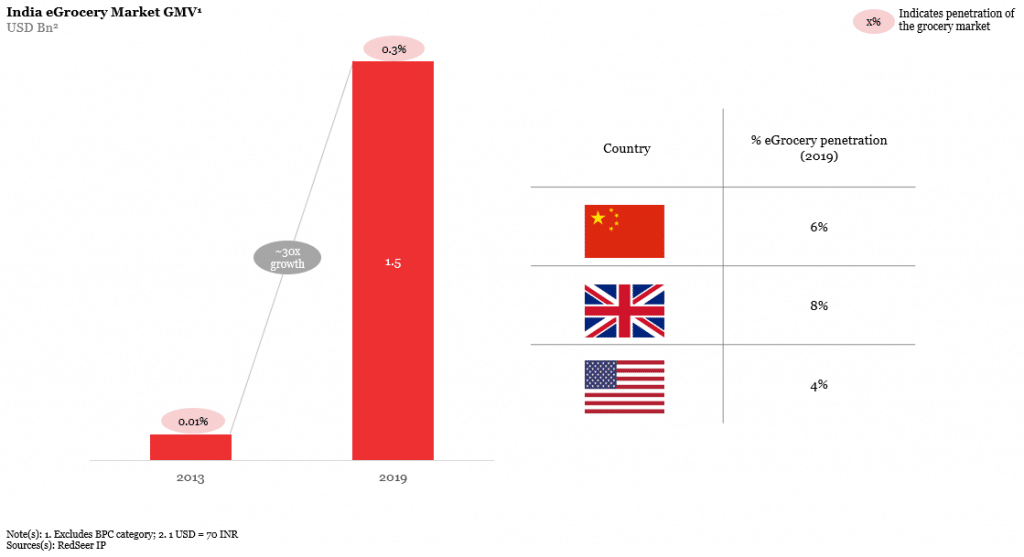 Moreover, eGrocery is largely a metro-based phenomenon with most players' operations limited to metros. As a result, there is still a significant untapped opportunity in Tier 2+ cities. 
Figure 2: Since most eGrocery platforms are concentrated in metro cities, there is a significant addressable opportunity in Tier 1+ cities.
Depending on inventory level and pricing (value vs convenience offering), eGrocery business models can be classified into 4 types – value-first inventory-led, convenience-first inventory-led and convenience-first market-places.
Figure 3: These models are classified basis value vs convenience offering & inventory levels, where value-first models have a larger base of addressable HHs.
Value-first models have a base of 57 Mn eGrocery addressable households, compared to 39 Mn addressable households for convenience first models (basis the grocery purchase criteria of the online transacting households in India).
Figure 4: These models are classified basis value vs convenience offering & inventory levels, where value-first models have a larger base of addressable HHs.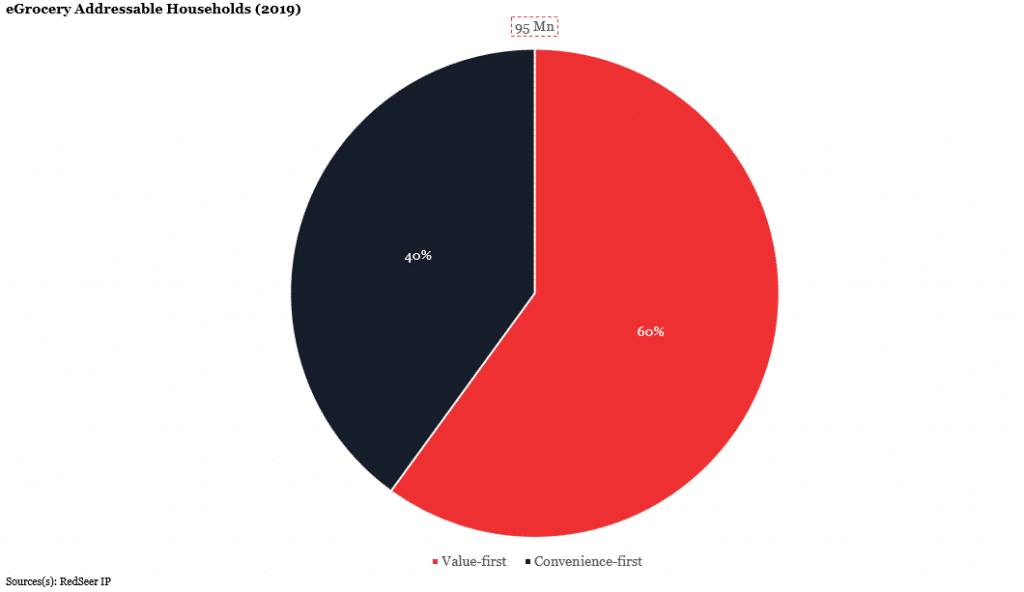 73% of the 130 Mn online transacting households are eGrocery addressable. Further, ~60% of the eGrocery addressable households are value-first i.e. consider pricing & discounts as the primary purchase criteria. The remaining 40%, on the other hand, are convenience-first i.e. they consider delivery time, availability of products or assortment as the primary purchase criteria.
Among the different eGrocery models, inventory-led models are better placed on margins and hence are likely to be more sustainable. This is because they're likely to perform better on private labels and consumer stickiness. Within inventory-led models, there's a close play between value-first and convenience-first models. While convenience-first models obtain better margins due to low discounts & high consumer stickiness, value-first models derive favourable margins through limited assortment, high private label share and scheduled-only deliveries.
COVID-19 gave a significant push to the eGrocery market as consumers realized the value of at-home access to groceries. In addition to providing convenience, variety & value, eGrocery platforms are now considered to provide safety as well. eGrocery platforms initially struggled with meeting the high demand due to logistics issues, but were able to cope with them later. Hence, although the overall e-commerce business took a hit, eGrocery business grew significantly during the lockdown.
Figure 5: eGrocery category continues to do brisk business during COVID, with GMV up 45% in May 2020 vs January 2020.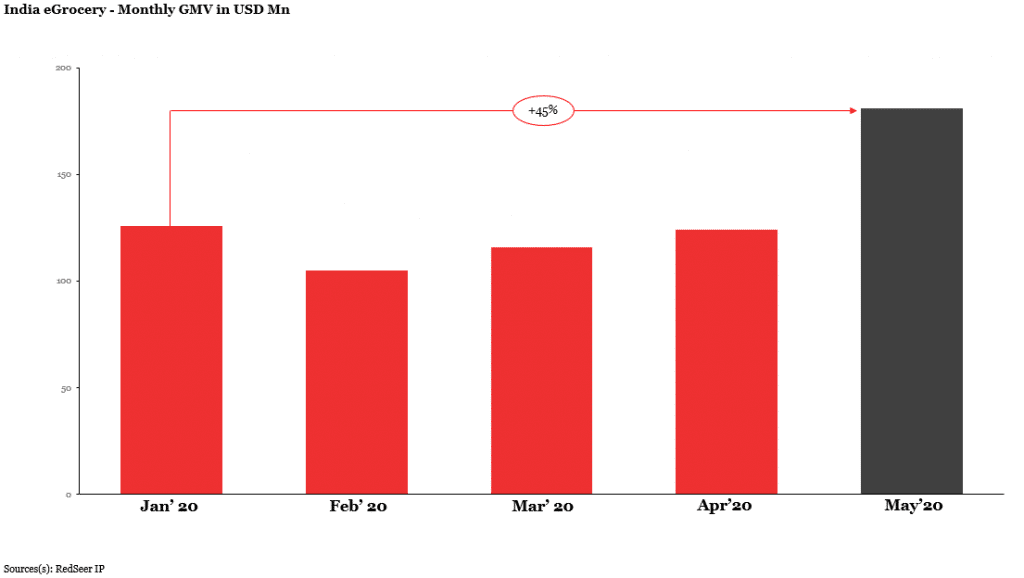 There has been extensive adoption of eGrocery platforms during Apr-May due to safety considerations and unavailability of offline retail. Most of this adoption was organic and at almost zero marketing effort. During March-April, eGrocery platforms struggled with fulfilling the huge demand due to logistical issues but were able to resolve them later.
By the end of 2020, eGrocery's monthly GMV is likely to reach 2.5x of its monthly value at the beginning of the year. Despite the initial slowdown in March, eGrocery GMV will shoot up and reach its peak in the May-June period. Once the offline channel becomes more available post June, there will be some drop in eGrocery GMV before it reaches a stabilization point around August. Post that, the sector is likely to see a steady growth. Overall GMV for 2020 is expected to be 1.7x of 2019.
Figure 6: Basis the strong growth, we expect eGrocery exit GMV in 2020 to reach ~2.5x of its entry GMV.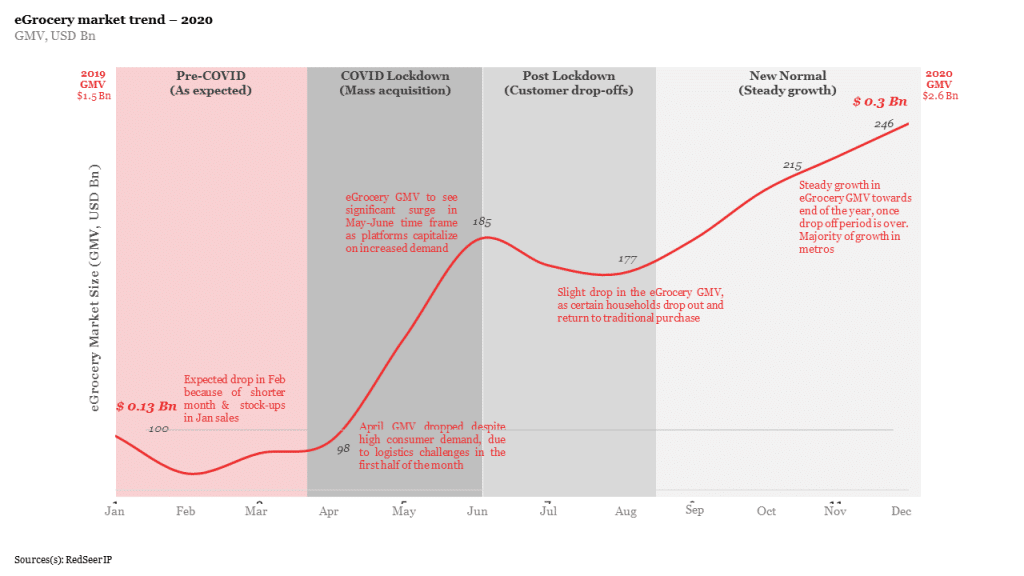 JioMart has been recently launched in the eGrocery space and is leveraging its network of retail & local Kirana stores to deliver groceries to homes. It plans to ride on the huge base of 400 Mn Jio internet users, most of whom do not shop online today. It has launched its service across 200 cities i.e. more than any other eGrocery player. JioMart has the capability to become an integrated retail platform by including other products and services under its umbrella, but will need to put in dedicated effort towards meeting the quality & fill-rate expectations of consumers. 
Figure 7: Reliance's JioMart (launched post COVID) has immense potential to disrupt the eGrocery space, but will need to overcome the market barriers.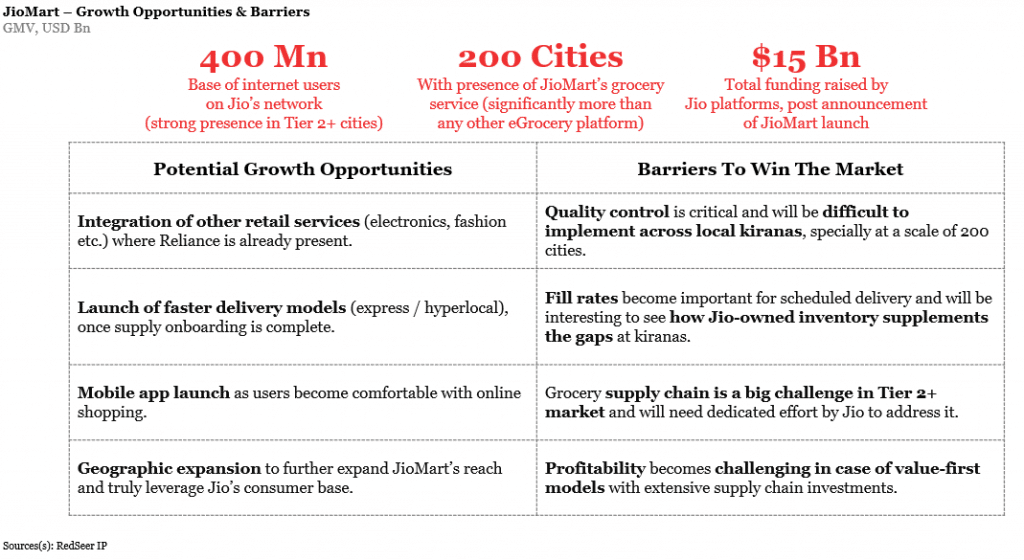 In order to fulfil the increased demand during the lockdown period, multiple e-commerce platforms entered the eGrocery space, operating on different delivery models. However, newly entered players may have a monumental task on their hands if they plan to take away market share from the more established incumbents.
This report covers sector-level insights such as online grocery business models as well as player-level insights such as or related to BigBasket revenue, BigBasket Business Model, Grofers Business Model, Grofers revenue and BigBasket market share, among others.

See: Inside the Report

1.Indian Grocery – $1 Tn market (2025) up for digital disruption

1.1. Overall grocery opportunity in India

1.1.1. Grocery market size & growth estimates

1.1.2. Grocery market global benchmarks

1.1.3. Grocery market category mix (India vs developed countries)

1.2. Disruption in the grocery market by organized models

1.2.1. Consumer pain points with unorganized retail

1.2.2. Organized offline retail models

1.2.3. Organized offline global benchmarks

1.3. Disruption by online retail models

1.3.1. eGrocery value proposition

1.3.2. Evolution of the market over the past years

1.3.3. eGrocery market size & growth estimates

2.Indian eGrocery – A blistering market led by value first users

2.1. eGrocery addressable opportunity

2.1.1. eGrocery addressable household estimates & growth projections

2.1.2. Addressable Household profiling - value first vs convenience first

2.1.3. Detailed Household personas & purchase behavior

2.1.4. eGrocery addressable dollar opportunity

2.2. Sector growth drivers

2.2.1. Consumer receptiveness towards online channel

2.2.2. Rising base of online service transactors

2.2.3. Increase in sector investments

2.2.4. Brand / supplier receptiveness

2.2.5. Regulatory support from the government

2.3. eGrocery market size & growth projections

2.3.1. eGrocery household projections

2.3.2. eGrocery market GMV & growth estimates

2.3.3. eGrocery category split

2.3.4. Sector benchmarking with other e-tailing & consumer internet

3.Indian eGrocery business models – A unique assortment

3.1. eGrocery business model classification (inventory vs marketplace and convenience-first vs value-first models)

3.2. Business model benchmarking

3.2.1. Leading players market share

3.2.2. Model benchmarking basis consumer NPS, AOV, consumer stickiness, assortment, delivery models, price    and category split

3.2.3. Business model profitability assessment

4.eGrocery market trends – The pivotal factors

4.1. Customer strategy trends

4.1.1. Non-user behaviour assessment

4.1.2. Festive sale

4.1.3. Platform stickiness

4.1.4. Omni-channel play

4.2. Operating model trends

4.2.1. Challenging eGrocery categories

4.2.2. Scheduled vs on-demand delivery

4.2.3. Innovative supply chain models

4.2.4. Grocery B2B Opportunity

4.3. Leading player case studies

5.COVID-19 – Potential tipping point for eGrocery

5.1. COVID Impact on eGrocery

5.1.1. COVID impact benchmarking with other internet sectors

5.1.2. eGrocery GMV Impact - during COVID months

5.1.3. New players in eGrocery market during COVID

5.2. Post COVID consumer sentiment

5.3. Post COVID eGrocery market predictions

5.3.1. eGrocery household predictions

5.3.2. eGrocery GMV predictions

5.3.3. COVID impact on eGrocery models

5.3.4. Key trends in the eGrocery market post COVID

6.JioMart – Disrupting the eGrocery space

6.1. JioMart potential

6.2. JioMart Business model details

6.3. Initial investor & consumer sentiment

6.4 Opportunities & Challenges for JioMart

6.5. Impact on the eGrocery market in near term




Recent Reports